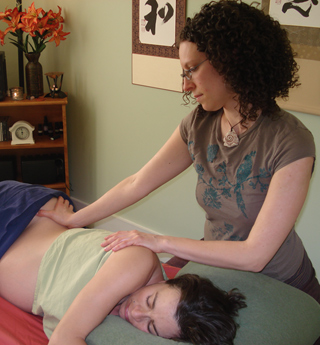 Red Moon Massage Therapy is the Park Slope, Brooklyn based private practice of Lena DeGloma, licensed massage therapist and certified birth doula. She specializes in the following areas:
Massage for Chronic Pain, Tension, Injuries, Stress Relief, and Relaxation
As a Licensed Massage Therapist, I integrate a variety of bodywork techniques in order to address your individual patterns of pain, tension, or discomfort. I have experience working with a variety of conditions including sciatic pain, carpal tunnel syndrome, thoracic outlet syndrome, rotator cuff injuries, sprains/strains, pulled muscles, nerve pain (or "pinched nerve"), stiff neck, headaches/migraines, stress/anxiety/depression, TMJ syndrome, plantar fasciitis, tendonitis, joint pain and arthritis, scoliosis, venous insufficiency and circulatory problems, and of course, all kinds of back pain. I work with men and women who suffer from sitting at a desk all day, athletes, busy moms, musicians, and so on. Check out what my clients say about me.
Beyond relief from physical discomfort, there are numerous health benefits to making massage therapy a part of your health routine. My rates are reasonable and you can save money by purchasing a package of massages. My hours are by appointment only. Book an appointment online now.
Prenatal & Postpartum Massage
I am an expert in prenatal and postpartum massage (in addition to being a birth doula and childbirth educator). I have experience teaching prenatal massage to other massage therapists and I have written state-approved prenatal massage curriculum. I have helped many pregnant clients with sciatic pain, swelling (edema) of the hands and feet, low back pain, SI joint paint, insomnia, digestive trouble, leg cramps, restless leg syndrome, stress relief, and relief of general muscle tension and pain.

Toward the end of your pregnancy I can help your body prepare for childbirth and even do acupressure and cupping therapy to help naturally stimulate labor when you are near or past your due date. Many controlled studies have found massage to have a variety of health benefits for the mother and baby. Read more about my pre/postnatal massage. I also offer massage during labor as a part of my birth doula care.
Book an Appointment